Plataforma Antirrepresiva de Ponent: Another attack on the rights of Pablo Hasél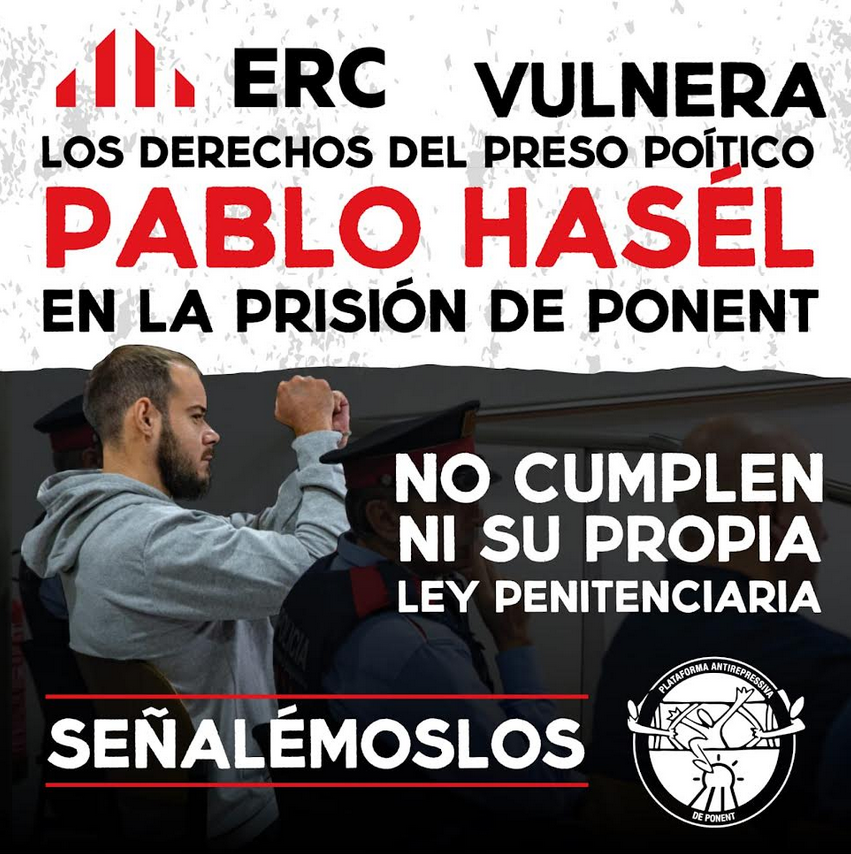 Plataforma Antirrepresiva de Ponent:
Another attack on the rights of Pablo Hasél
Pablo's situation in Ponent prison is getting worse day by day. A few weeks ago we reported that as a result of a stomach bacteria that he had caught in the Ponent prison, he had to undergo medical tests that required him to be half-naked. The Mossos d'Esquadra [police force in Catalonia, note by translator] did not want to leave the room, thus violating his right to privacy. He made it clear to them that the tests would not be carried out with their presence. Beyond complying with his legality, the Mossos again refused to leave the consultation and took him back to prison without the proper tests.
At the beginning of December we met with a member of the government of the Republican Left of Catalonia (ERC) to whom we asked for an explanation as how they had presented Pablo during the trial of the defendants of the Subdelegation, surrounded by 6 agents of the Mossos at all times and handcuffed in the first session of the judgment; We also asked for explanations for what happened with the medical tests, demanding that they had to be done immediately. At the publication of this text, we are still waiting.
To make matters worse, a week ago they notified him that, due to reforms to be carried out in the prison, they would transfer prisoners to his module and he would have to share a cell with another prisoner, a question to which he flatly refuses, because their own prison law says that every prisoner has the right to an individual cell.
We brought these facts to the attention of ERC and demanded from them, as the responsible parties that they are, that we wanted a written commitment that the right to an individual cell would be respected and that the medical tests would be carried out immediately, since his health worsens day by day. Due to the lack of interest and the silence on the part of the Minister of Justice, Gemma Ubasart, we told them that, if there was no compromise in writing this Tuesday, we would start a complaint campaign.
From the Ponent Anti-Repressive Platform we want to make it clear that we will not allow our comrade's rights to be violated, that we will tirelessly denounce these injustices in the streets and where necessary with a campaign in which we will increase the intensity of the denunciation until we are guaranteed that medical tests will be done, in which the right to privacy and the right to an individual cell will be guaranteed.
AGAINST THEIR ATTACKS, WE POINT OUT THOSE RESPONSIBLE!
FREE PABLO HASEL! TOTAL AMNESTY!