Call to reinforce International #DrSernasPresentaciónConVida (PresentDrSernasAlive) Campaign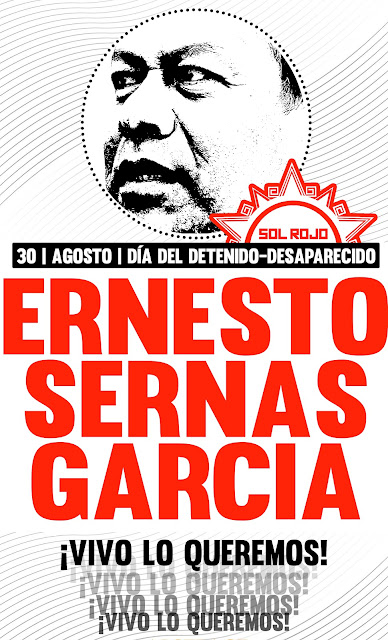 This 30th of August
Let us firmly raise the red flag of comrade Ernesto Sernas García
On 10 May 2018, Dr. Ernesto Sernas García, professor at the Benito Juárez Autonomous University of Oaxaca (UABJO), essayist, researcher, lecturer, activist and defender of the rights of the people, was disappeared. Comrade Sernas García was a legal advisor to the Corriente del Pueblo Sol Rojo (Red Sun People's Current) and defended 23 militants imprisoned in high security prisons accused of terrorism and carrying explosives reserved for use by the Mexican army.
The masterful defence led by comrade Sernas García allowed the release and subsequent acquittal of the Red Sun-PC militants as well as two more co-defendants. This generated deep class hatred among the ruling elites who ordered this crime against humanity against a revolutionary intellectual.
Since then our comrade has been missing and the position of our organisation and his family is to demand that he be presented alive.
Throughout these more than four years, Red Sun-PC has carried out countless protest activities, within in the campaign #DrSernasPresentaciónConVida (PresentDrSernasAlive). This has been joined by personalities, schools, cultural institutions, human rights organisations, democratic-revolutionary organisations and Communist Parties around the world.
Present
As part of these actions in our country, there have been marches, sit-ins, caravans, rallies, leafleting, graffiti, etc. Activists and friends have raised his name, his face and his struggle in states such as Oaxaca, Guerrero, Chiapas, Hidalgo, Veracruz, Mexico State and Mexico City.
In the same vein and in a great show of proletarian internationalism, revolutionary activists have held rallies, demonstrations and statements in Mexican consulates and embassies, as well as conferences and actions to spread information in countries such as Colombia, Brazil, Ecuador, Chile, the United States, Canada, Galicia, Germany, Austria, Finland, Rojava, among others.
The United Nations through the Committee on Enforced Disappearances (CED) issued Urgent Action No. 540/2018 and later the opinion of a group of experts; the World Organisation Against Torture (OMCT), the International Federation for Human Rights (FIDH) and Front Line Defenders have also pronounced themselves on the matter.
However, despite all the legal remedies and political efforts undertaken so far, the old landlord-bureaucratic state, through the federal and state governments, exercises dilatory and revictimising practices against Dr. Sernas and his family.
In this sense, the Ministry of the Interior and the National Search Commission, together with the Oaxaca State Attorney General's Office, the State Search Commission and the Oaxaca Human Rights Defender's Office, maintain a policy of simulation with files where bureaucracy and procedural inactivity are the common factor, impeding access to truth and justice.
That is why this August 30th, in the framework of the International Day of the Detained-Disappeared, the Red Sun People's Current and the family of comrade Dr. Ernesto Sernas García will once again take to the streets, to shout his name loudly, to paint his face on the walls and to make it clear that we neither forgive nor forget this crime against humanity that is part of the war against the people that has so far left more than 100,000 people disappeared in our country.
We call on sister organisations in Mexico and other countries to join us this August 30, from their geographies, their ways and their capacities, in this demand for justice against the old and rotten Mexican state. The international campaign #DrSernasPresentaciónConVida continues.
Ernesto Sernas García… present alive!
Because alive they took him, alive we want him!
Neither forgiving nor forgetting!
Punish the perpetrators and masterminds!
Defend the lives and rights of the people!
Combatively:
Family of Dr. Ernesto Sernas García
Red Sun People's Current
Oaxaca, Mexico. August 2022